This morning I wake up much earlier just in time to take pictures of the sunrise. It is 6AM and are not planning to leave the camp until 9. Lot's of time to explore! First I go up a ways towards the upper mine but find that the views do not improve. I then walk up a very exposed trail on the south side of the camp beyond the well and get much better views.
I almost miss the turn-off of the trail that switch-backs up the hill on top of the south wall facing the camp. Almost every switch-back on the north side offers beautiful views onto the camp. Here you can see
Zulah still sleeping.
The trail ends at a couple of little sheds and this field of beautiful red, white, and some black marble.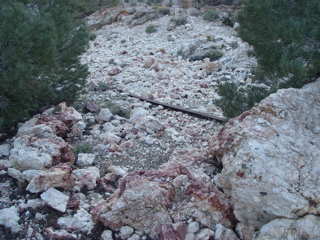 Some of the marble has some blue substance. Oxidized copper?
There are also some really old looking trees. Perhaps these are bristle
cone pines?
As the sun comes up further, the first rays hit the walls closer to the camp.
Another more encompassing shot of the camp.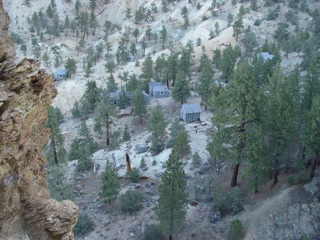 Sadly, the trip is over today. Here we send off Danni, Jagger, and Brat at the Bishop airport getting ready to fly back to San Carlos. While Danni and Jagger do not really like flying, I'm on the hand very jealous. The flight only takes two hours! Zulah and I on the other hand have a long, long drive back to Reno to change cars, and then back to Cupertino.